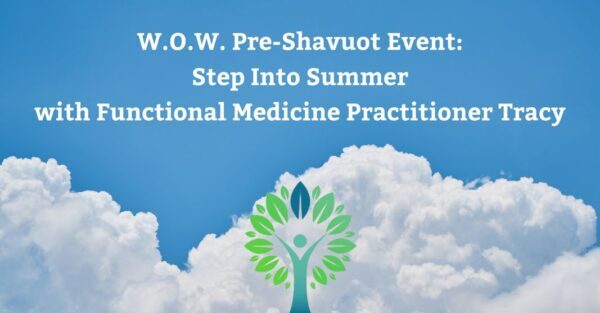 W.O.W. Pre – Shavuot event: Step into summer with Functional Medicine Practitioner Tracy
Pre – Shavuot: Step into summer with Functional Medicine Practitioner Tracy
Yes, we can! Eat better, move more, and live well.
Step/Spring into summer with Nutrition and Functional Medicine Practitioner Tracy Farrell.
As we step into summer and out of a shelter in place mandate, join Tracy in learning how to reclaim our health & lives. Tracy will share with us tips and ideas of how to get back into a healthy lifestyle by treating the whole you in a 5 pronged approach:
Diet: What this means "healthy" vs "unhealthy" foods. Simple steps to change your plate.
Rest (sleep): Why sleep is so important and how to get a good night's rest. What is really the average sleep number and how yours can be different.
Exercise: What this means in terms of health vs achieving a beach body. Cardio and strength training and why each is important as we age.
Stress Reduction & Management: Why is this one of the most, if not the most important changes we can make for our health. Simple techniques that take a short amount of time with maximum results. And the various forms this takes, it's not just meditating!!
Spiritual/Social: The importance of community and your health.
Tracy will share some handouts with tips and links as well as leave time for questions.
W.O.W. board president Andrea Gamlin will share with us some thoughts and ideas of how to reclaim and step into  our connection to Jerusalem and Shavuot.