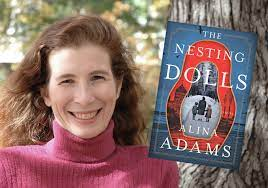 W.O.W. Book Club With Nesting Dolls author Alina Adams
"The Nesting Dolls" by Alina Adams
Join W.O.W. and NYT bestselling author Alina Adams for a discussion of her latest historical fiction novel, "The Nesting Dolls," about three generations of a Soviet-Jewish family in 1930s Odessa, USSR, 1970s Odessa, and present-day Brighton Beach, Brooklyn. Come share your own family history and learn how to turn it into stories to share with the next generation! There will be a Q& A as well so bring your questions with you.
Two options for joining:
1) Join us in person (masked) at 5337 Providence Road, Charlotte, NC; OR
2) Join us in your home on Zoom.
Read the book prior to the event and think about questions you may want to ask the author.
To find out more about the author visit http://www.alinaadams.com/
W.O.W. Is open to all Charlotte Jewish women, no affiliation or membership required. Bring a friend.
Click Here for zoom link and more details.