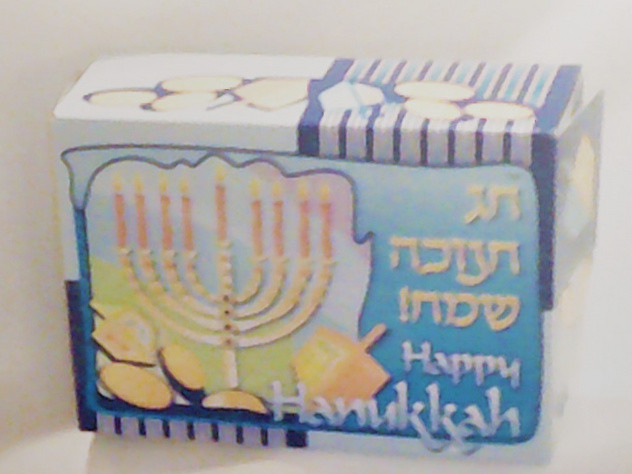 Chanukah Gift Box Sales – Filled with Chanukah treats
Support our Chanukah sale fundraiser so W.O.W. can bring you  great programing and send Moms to Israel.
Order your Chanukah gift boxes filled with Chanukah Treats & Surprises
Perfect to give as a gift, send to your child in college or use to celebrate Chanukah with your family.
The boxes will be easy to ship to friends and family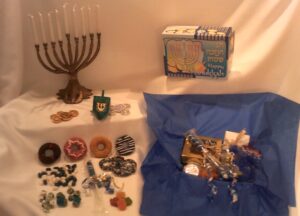 Each order will be boxed in a Chanukah box shown in this picture. A beautiful menorah and colorful dreidels design the front of the box, complemented by Happy Hanukkah! in Hebrew and English.
Each box contains:
Four small (2″) baked donuts prepared in Sara's kitchen. Each of the donuts are in a different flavor and design. All decorations are created carefully by hand.
Two Belgian chocolate covered pretzels topped with blue and white sprinkles.
Box of Jelly Belly Beans in blue (blueberry flavored) and white (coconut flavored).
Smile Art and Dreidel Art Candy by Hammond.
Plastic dreidel filled with three different candies.
Mesh bag of dark chocolate gelt.
Mesh bag of milk chocolate gelt.
Royal blue and white raspberry flavored unicorn lollipop.
Dreidel shaped gummies.
All food items are kosher and have kosher supervision.
Note: Menorah in background is not included. Colors may vary, products may not be exactly as in photograph.
Cost: $20 per box.
Limited gift boxes, order early. Gift boxes will be available for pickup Wednesday evening, December 6th and Thursday morning, December 7th.
Reminder: You pick up and gift or ship to your loved ones.