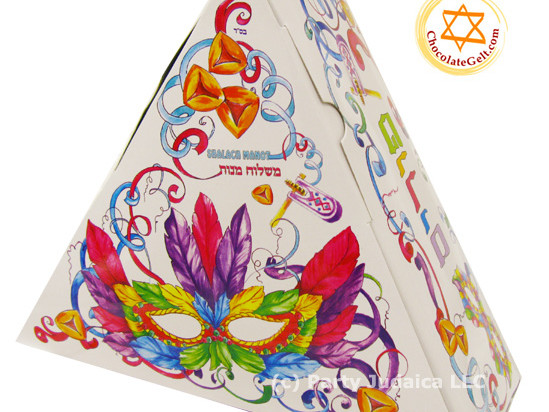 Purim Gift Box Sale Filled with Hamantaschen & Purim Surprises
Order your Purim Gift boxes filled with Gourmet Hamantashen and Purim surprises to give as a gift, send to your child in college or use to celebrate Purim with your family.
Purim Gift Boxes will be available for pickup Sunday, March 17th.
Each order will be boxed in Purim box shown in this picture. The very popular MASQUERADE design is combined with the most popular triangle hamentash shape. This triangle Purim box is really festive and fun.
Each box contains:
Two delicious gourmet style hamentashen. Apricot chocolate dipped with sprinkles and raspberry chocolate dipped.
One bag of Organic Trail Mix:
Three mini Halva, vanilla, pistachio and cocoa beans.
Six rainbow dark chocolate non pareils:
Purim Mask:
Two metal groggers from the selection below:
One small bag of gourmet Jelly Belly Beans (not pictured).
One AirHeads candy bar, fully size fruit taffy bar (not pictured).
Four Laffy Taffy candy. Strawberry, banana, apple and grape flavored (not pictured).
One Sixlets Original Sixlets Chocolate Candy Twelve Ball Tube
Support our Purim sale fundraiser so W.O.W. can bring you  great programing and send Moms to Israel.
W.O.W. events and education are open to all Jewish women regardless of affiliation.
Empowering, inspiring, and connecting all Jewish women.